What happened this week?
USA. President declares disaster in New Hampshire
The U.S. Department of Homeland Security's Federal Emergency Management Agency announced that federal disaster aid has been made available to the State of New Hampshire to supplement state and local recovery efforts in the area affected by a severe winter storm and snowstorm during the period of February 8 - 10, 2013.
The President's action makes federal funding available to state and eligible local governments and certain private nonprofit organizations on a cost-sharing basis for emergency work and the repair or replacement of damaged facilities.
Read more
Ecuador. In Cuenca, the risk is on the river banks
This past weekend citizens were reminded of the dangers living on the river banks of Cuenca. The Risk Management Committee of the Cantonal Council urges updating the ordinance regulating construction in the city. In 2012 more than 600 were issued sanctions. For citizens like, Delina Vidal, who had built her home more than 50 years ago, says this, "Now we are concerned, not only for possible rising water of the river but also because they do not get work to help us reduce the risk."
Read more
Bolivia. Extreme weather events since November 2012 to March 19 of this year have affected 28,973 families and eight rivers have entered an orange alert
The more frequently extreme weather events were heavy rainfalls causing flooding, rivers overflowing, and hail and strong winds that have affected 610 homes and taken the lives of 25 people. Since November 2012, 88 counties (municipios) have been affected by these extreme weather events, with the majority of them being in the province of La Paz. One of the most significant affected areas are the farmlands; a recorded area of 15,023 hectares have suffered from these events. And according to reports of the National Naval Hydrographic Service (SNHN), 12 of the 20 major river basins of the Amazon and Plata are on orange alert, prone to red, which is with the possibility of overflow or flood.
Read more
Interesting Facts
How well do you know your Hurricanes?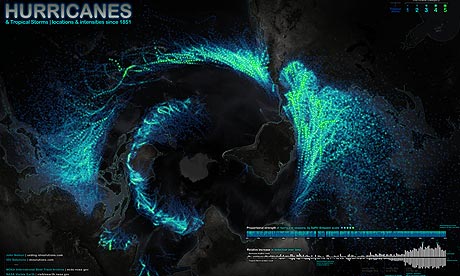 The picture above shows every hurricane ever recorded around the world!!
Read more
(The Guardian)
Did you know that there once was a five day long Category-5 hurricane, or that another hurricane traveled about 13,280 km (7,165 miles) ? These and 48 more interesting facts are awaiting in the link below.
Read more
(Our Amazing Planet)
What's new in Disaster Risk Reduction?
Colombia. Risk Management has no borders
In relation to the Colombia-Ecuador Bi-national Workshop on Disaster Risk Management; the director of the National Unit for Disaster Risk Management, Carlos Iván Márquez Pérez, stated, "The country's capacity depends on the ability of joint institutions for emergency management." The benefits to the two countries in this international alliance, is the application of its procedures on the reduction, mitigation, response and recovery to natural and man-made events.
Read more