What happened this week?
The damages of Hawaii's Kilauea Volcano and its possible explosive eruption
Hawaii's Kilauea Volcano has been sputtering lava for a week, forced around 2,000 residents to evacuate,
destroyed 36 structures — including 26 homes — since May 3, when it began releasing lava from vents about 25 miles (40 kilometers) east of the summit crater.
Now experts fear that it
could hurl ash and boulders the size of refrigerators miles into the air
in the coming days or weeks.
What could happen is not an eruption of volcanic gases but mostly trapped steam from flash-heated groundwater released like in a kitchen pressure cooker, with rocks, said volcanologist Janine Krippner of Concord University in West Virginia.
The problem is the lava lake at the summit of Kilauea is draining fast, about 6.5 feet (2 meters) per hour and i
n little more than a week, the top of the lava lake has gone from spilling over the crater to almost 970 feet (295 meters) below the surface as of Thursday morning. The lava levels in the lake are dropping because lava is spewing out of cracks elsewhere in the mountain, lowering the pressure that filled the lava lake
...
Read more
Belize signs $20 million loan with IDB to reduce climate vulnerability
Prime Minister of Belize, Dean Barrow, and Country Representative of the Inter-American Development Bank (IDB), Dr. Cassandra T. Rogers, today signed a loan contract for US$10 million that will seek to reduce Belize's vulnerability to climate change and risk with the implementation of climate resilience measures in the tourism sector, and the improvement of disaster risk management governance.
The project is a continuation of the Bank's support for flood mitigation in Belize City, which included the Flood Mitigation Infrastructure Project, completed in 2017
.
The program consists of two components.
The first will seek to reduce climate change risk in the tourism sector. It will include studies and investments to reduce floods in the Orange Street area of Belize City, an area with a comparatively high climate risk.
Additionally, this component includes actions to control coastal erosion in Palapa Gardens beach on Caye Caulker and to reduce the impacts of intense tourism activities on the surrounding coral reef and seagrasses at Goff's Caye.
The second component deals with disaster risk management governance and climate change adaptation.
The US$10 million loan, from the Bank's Ordinary Capital, is for a 25-year term, with a 5.5-year grace period and a LIBOR-based interest rate...
Read more
Interesting Facts
The science behind the volcanic activity on Hawaii's Big Island
Hawaii's Kilauea volcano has entered a new destructive period of eruptions, which has happened several times since it resumed producing lava in 1983. Here's some context behind one of the world's most active volcanoes, and Hawaii Island's youngest: Kilauea is currently in the second phase of growth, the "shield building" stage, where it is the most active and the most voluminous. Lava eruptions have occurred at the volcano's summit since 2008 and since 1983 on its eastern shoulder at a crater called Pu'u O'o, which collapsed on April 30, and sent lava searching for a new path downhill. Scientists are concerned that if the lava column drops to the level of groundwater beneath Kilauea Caldera, it will cause more eruptions.
..
Read more
To live on a volcano is to accept risk. On Hawaii's Big Island, the risk has become reality.
Hawaii exists, and continues to take on new shapes, in large part because of Kilauea, the longest-erupting volcano on the planet, and — according to some Hawaii residents — because of Pele, the Hawaiian volcano goddess
. Living here has always been a gamble.
H
ome sales in high-risk areas
in Hawaii
tend to plummet in the wake of volcanic activity, and insurance companies are increasingly limiting their offerings. But
while some residents are devastated by knowing they might have lost everything, others say it's a gamble they'll take again as the area is believed to maintain its appeal.
Land on this side of Hawaii is some of the cheapest in the state — not just because of the sputtering volcano, but because, residents say, it's also relatively rainy and it lacks the white-sand beaches that tend to draw tourists....
Read more
The Quest to Hurricane-Proof an Island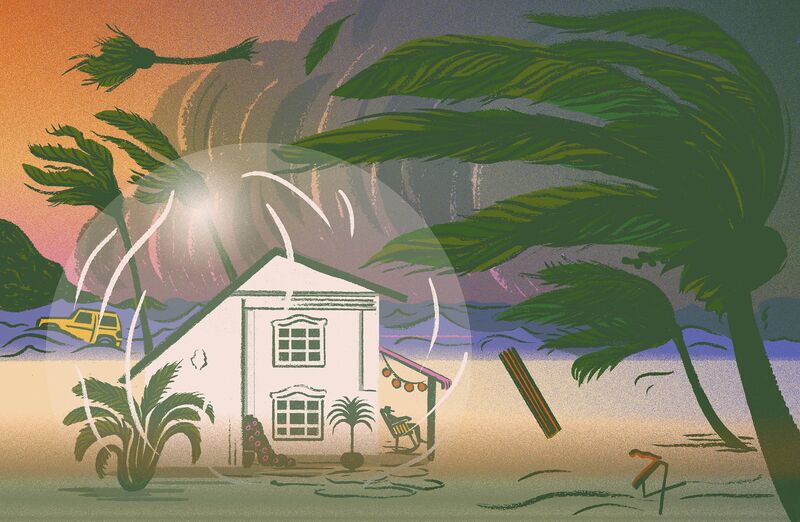 Eight months ago, Category 5 Hurricane Maria hit Dominica, where nine out of 10 buildings lost a roof. The World Bank estimated the total damage at $1.3 billion, or 224 percent of the nation's gross domestic product. Remarkably, though, less than a year later, there's optimism in the air as Dominica is making a bid to be the world's first climate-resilient nation.
Climate Resilient Execution Agency for Dominica (CREAD), a task force to hurricane-proof the entire island has been
conceived shortly after the storm by government officials.
The government expects to appoint a chief executive and leadership team to the agency as soon as it gets parliamentary approval, likely in July. CREAD's first mission will be to determine best practices across every sector—roads, building codes, energy grids, water management—before enforcing them islandwide.
The government has already been collaborating with international organizations to establish some parameters ahead of CREAD's inauguration. Any roofs that are being rebuilt with aid from the government or major nonprofit groups are being reengineered according to United Nations Development Programme standards. The UNDP guidelines call for steeper roof angles to better withstand wind, for example, and for the use of screws rather than nails to strengthen frames. Building codes are being rewritten with the help of the Canadian government and the U.K.'s Department for International Development, as well. And the Dominica government is taking the first steps of burying utility cables, elevating bridges, and shifting to solar from generator power—all projects that CREAD will see through to completion. If Dominica is successful, it will eventually be able to rebound from a Category 5 storm in a matter of weeks, not months or years.
..
Read more
Learning from big innovations in Small Island States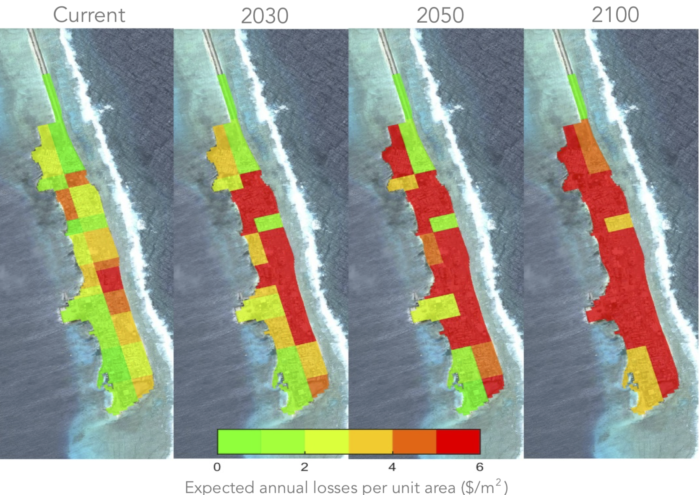 Small island developing states (SIDS), which account for less than 1% of the world's population, are some of the world's most vulnerable countries to disasters and climate change. Of the countries with the highest disaster losses relative to GDP, two-thirds are small island states, with annual losses between one and nine percent of GDP on average.
Even those numbers are misleading, however, since a single disaster can cripple an island's entire economy. Without tropical cyclones, for instance, Jamaica's economy could have grown by as much as 4% per year; instead, over the past 40 years, it has grown 0.8% annually. Sometimes, growth is wiped out all at once: When Hurricane Maria struck Dominica last year, it caused damages and losses equivalent to 220% of the country's GDP.
But what we learn from these small, remote, highly exposed islands could be useful for millions of people around the world.
Though their size makes SIDS vulnerable, it also makes them ideal for piloting comprehensive analytical tools and innovative methodologies that help us understand climate and disaster risks and design resilience strategies. Successful tools and methodologies can later be applied to bigger countries or broader regions with similar challenges, particularly coastal areas.
..
Read more
What men in disaster response should do to promote gender equality
Currently, the majority of disaster response staff are men. They have a large role to play in creating safer and more supportive work environments for women in disaster response roles — both on the ground and at headquarters.
Last year, ActionAid and CARE International came together to compile a report on what holds women back from disaster response positions.
Following allegations of sexual misconduct in Haiti by Oxfam, Save the Children, and staff from other aid organizations,
Devex spoke with emergency preparedness staff focused on diversity inclusion from CARE International and ActionAid to get their advice on what men in disaster response can do to create a more inclusive environment and work toward gender equality. While some of the best practices they suggest seem simple, it's clear that they are often not implemented.
From recruiting more diverse teams, breaking down "bro-culture," and knowing when to take a step back, here are eight tips from experts
.
..
Read more