What happened this week?
Caribbean volcano Kick 'em Jenny: Ships warned off area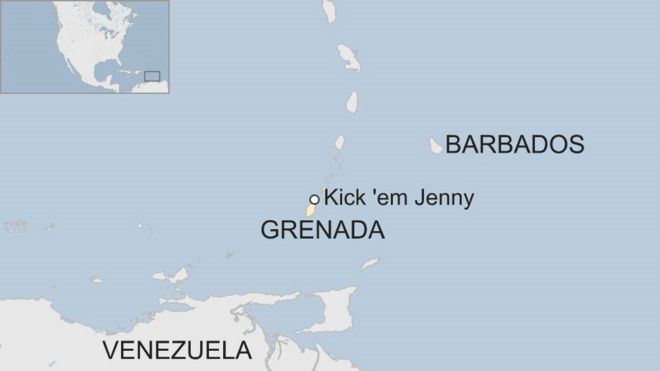 Ships sailing in the Caribbean have been told to steer clear of an underwater volcano after it started showing increased seismic activity.
The volcano, called Kick 'em Jenny, is located 8km (5 miles) off Grenada. Kick 'em Jenny, which rises 1.3km above the seafloor on a steep slope of the Lesser Antilles ridge, is one of the most active volcanoes in the eastern Caribbean.
The government of Grenada has imposed a 5km exclusion zone around Kick 'em Jenny after the alert was raised to orange, which means an eruption could take place within 24 hours. However, s
eismologists said there was no imminent danger to the region and according to researchers at the West Indies Seismic Research Center (SRC) in Trinidad, there was no indication that the increased seismic activity would generate a tsunami
...
Read more
March 18th marks the third anniversary of the adoption of the Sendai Framework for Disaster Risk Reduction 2015-2030
Three years after the adoption of a global plan to reduce disaster losses 148 countries have now committed to report systematically on their disaster losses including deaths, numbers of people affected, economic losses and damage to critical infrastructure including public utilities. Best estimates are that disasters cost the global economy US$520 billion annually while pushing 26 million people into poverty and displacing millions from their homes but not enough countries are providing precise data at national level. Since the Sendai Framework Monitor went live on March 1, 61 countries have already logged on to upload statistics for 2017 which will also feed into the first progress report on achievement of the 17 SDGs which will appear in July.
..
Read more
Interesting Facts
The Peruvian Navy bolsters natural disaster response strategies with Modular Mobile Bases.
On February 1, 2018, the Peruvian Navy set up a Modular Mobile Base (BMM, in Spanish) in the Ricardo Palma district, in the department of Lima. The base will serve as a logistics center and provide basic services to the affected population during any natural disasters. West of Lima, BMM Huarochirí meets all the conditions for security, welfare, and basic services with freezers, refrigerators, and a freshwater and wastewater treatment plant. The unit also has two power plants generating 50 kilowatts each, a 5,000-gallon freshwater tank, and a 1,300-gallon fuel tank, in addition to a warehouse and a command center
.
..
Read more
Jamaica Strengthening Disaster Resilience under US$30-Million Project
Jamaica's resilience to disaster and climate risk is being strengthened through various activities and initiatives being undertaken as part of the Disaster Vulnerability Reduction Project (DVRP).
The project, which is being implemented by the Jamaica Social Investment Fund (JSIF) from 2016 to 2022, is funded by the Government of Jamaica through a loan agreement with the World Bank valued at US$30 million. The project deliverables to be undertaken over the six-year period include the development of a National Risk Information Platform (NRIP), which will allow all risk data to be located and updated in a centralized platform available to government agencies and the public
...
Read more
Powerful earthquake that killed over 300 people in Mexico was a rare 'bending' quake: study
Most major earthquakes worldwide happen along the unstable intersections in the Earth's crust, where two tectonic plates collide, one plate sliding beneath the other.These are called subduction zones and a
t most subduction zones, after one tectonic plate slides beneath a neighboring plate, it continues on a diagonal downward dive and sinks deep into the Earth's mantle. In Mexico,
the initial contact between the two tectonic plates starts off normally enough, with the subducted plate sinking diagonally downwards. However,
just as it begins to jut underneath the Mexican mainland, the plate reverses course. It bends upward, sliding itself horizontally beneath the plate Mexico sits on top of.
Then, underneath Puebla state—just south of Mexico City—at a depth of about 30 miles below ground, the subducted plate abruptly changes direction once more. It dives almost vertically downward, plunging itself deep into the Earth's mantle...
Read more
Read research paper
Policy
Developments and Outlook
CDEMA's new procurement procedures improve disaster response
The Caribbean Disaster Emergency Management Agency (CDEMA), with support from the Caribbean Development Bank (CDB), has developed and will implement new procurement and contract management procedures to facilitate a more streamlined and efficient use of their resource pool, including disaster management funds. After conducting a routine assessment of its operations geared toward the continual improvement of financial management practices, a number of recommendations for improving the unit's procurement system were identified. Updating the existing procurement manual to address gaps related to procurement and contract management was among the suggestions
.
..
Read more