What happened this week?
International Women's Day: Call for better data on impacts of disasters on women and girls
Marking International Women's Day on March 8, UN Special Representative for Disaster Risk Reduction, Ms. Mami Mizutori made an appeal today for UN Member States to provide better data on the impacts of disasters on women and girls. Ms. Mizutori who took over as head of the UN Office for Disaster Risk Reduction (UNISDR) on March 1, stressed the need for a better understanding of the extent to which a disproportionate number of women and girls die or are affected by disasters, allowing governments and civil society organizations to be compelled to make a more conscious effort to ensure that women are recognized as agents of change and better represented in disaster management agencies
...
Read more
Recognizing issues around gender, and empowering women and drawing on their knowledge, is an essential part of resilience and achieving the globally-agreed 2030 Agenda for Sustainable Development.
The impacts of climate change are not "gender neutral". In fact, the situation is worst for the most vulnerable: according to the United Nations Framework Convention on Climate Change (UNFCCC), women commonly face higher risks and greater burdens from the impacts of climate change in situations of poverty, and the majority of the world's poor are women. Women's unequal participation in decision-making processes and labor markets compound inequalities and often prevent women from fully contributing to climate-related planning, policy-making and implementation.
...
Read more
Interesting Facts
International Women's Day: How the
2011 earthquake and tsunami disaster in Japan led to the foundation of
Bosai Girls (or Disaster Preparedness Girls), to raise awareness among young people on the importance of disaster and emergency preparedness
Were it not for the 9.0-magnitude earthquake disaster that
triggered a tsunami that left more than 20,000 people dead or missing
, Ms Misaki Tanaka's destiny might have been different.
Ms Tanaka quit her job at a Tokyo information technology firm and joined
an organization which supports disaster victims. She was tasked with helping to plan disaster preparedness exercises, which many saw as repetitive and boring. She set herself a goal: Make these drills interesting, even for young people.
That idea led to the creation of Bosai Girls, or Disaster Preparedness Girls, in 2013. Her decision to use the word "girls" in the name reflected the fact that women are particularly vulnerable in times of disaster. If she was to promote her vision of a fun and funky approach to disaster preparedness, Ms Tanaka realized she needed to reach out to young women, who are often the catalyst for new trends.
..
Read more
Studies show that women are more likely than men to be affected by disasters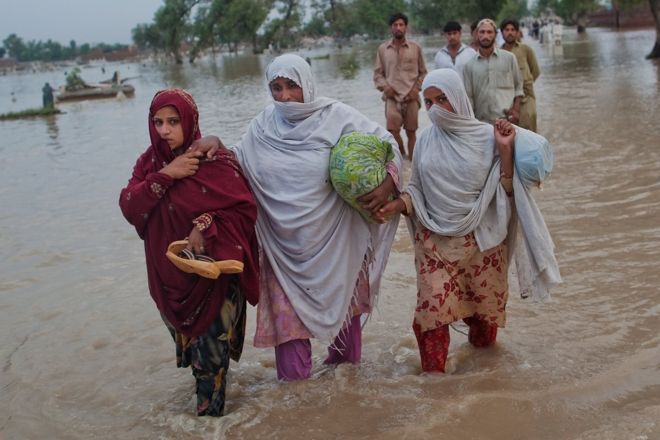 UN figures indicate that 80% of people displaced by climate change are women.
Roles as primary caregivers and providers of food and fuel make them more vulnerable when flooding and drought occur. In addition,
women are more likely to experience poverty worldwide, and to have less socioeconomic power than men. This makes it difficult to recover from disasters which affect infrastructure, jobs and housing. The UN has highlighted the need for gender sensitive responses to the impacts of climate change, yet the average representation of women in national and global climate negotiating bodies is below 30%
.
..
Read more