During the first semester of 2010 Latin America and the Caribbean had two of the most devastating earthquakes of the decade. The first one in Haiti and the second one in Chile. It's been 10 years since both events and this is what we now know:
UN committed to helping Haiti build better future, says Guterres, marking 10-year anniversary of devastating earthquake
.
On 12 January 2010, a 7.0 magnitude quake struck Haiti, devastating its capital, Port-au-Prince. About 220,000 people were reportedly killed, among them, 102 UN staff who lost their lives when the building housing the stabilization mission there, known as MINUSTAH, collapsed. Some 300,000 people were injured and 1.5 million become homeless during the 35-second-long tremor
.
Marking the 10-year anniversary of the tragedy, Secretary-General António Guterres renewed the commitment of the United Nations to helping the country and its people build a better future.
"On this day, we remember the hundreds of thousands of Haitians who lost their lives and the millions gravely affected by the devastating earthquake that struck their country ten years ago," Mr. Guterres said in a video statement, also honouring the memory of the UN colleagues lost on that same day..

.

Read more
Haiti remembers victims of 2010 quake as economists lament rebuilding efforts 'at square one'.
"It's a lost decade, totally lost," Haitian economist Kesner Pharel told AFP.
"The capital has not been rebuilt, but our poor governance is not the exclusive responsibility of the local authorities; at the international level we have not seen a mechanism for managing aid that would allow the country to benefit."
The billions of dollars promised by international donors in the weeks after the catastrophe seem to have vanished with little to show for them, fueling the bitterness of survivors who live today exposed to the same dangers as existed before the quake...
Read more
Chile earthquake of 2010. Severe earthquake that occurred on February 27, 2010, off the coast of south-central Chile, causing widespread damage on land and initiating a tsunami that devastated some coastal areas of the country. Together, the earthquake and tsunami were responsible for more than 500 deaths
.
The magnitude-8.8 earthquake struck at 3:34 AM. The epicentre was located some 200 miles (325 km) southwest of the Chilean capital of Santiago, and the focus occurred at a depth of about 22 miles (35 km) below the surface of the Pacific Ocean
.
By June more than 50,000 provisional homes had been erected, and housing subsidies had been disbursed to many who had been left without shelter. A year later some who were displaced had not yet moved to permanent accommodations, and coastal areas affected by the tsunami still struggled to recover from damage to the fishing and tourism industries. However, infrastructural repairs, including those to highways and airports, were largely complete. In July 2013 the government reported that some 74 percent of the 222,000 home-rebuilding projects it had subsidized were complete. The rest of the projects were largely complete by the middle of 2014
.

..
Read more
Interesting lessons and explanations
Lessons Learned from Chile, Evaluating Strategic Reconstruction Master Plans in Post-Disaster Scenarios,
Maria Garces Marques.
By March 10th, a week after the earthquake, the newly elected president, Sebastian Piñera took office. He represented the center-right parties in Chile; he "symbolized the inauguration of a businessman government" (Boano and Cociña 2013) that ran on a campaign of business-friendly regulation, sound economic policy and overall economic growth government. Reconstructing the country was his main task from the very beginning of his term; this meant coming up with a plan that would address emergency needs as well as long-term recovery given the level of damage and the vast area covered by destruction.
The government's action plan focused in channeling private entities and civil organization's aid (mainly economic) through public-private partnerships led by the local governments (...)
There were three types of plans designed to address specific areas of the country through a series of project portfolios and proposed financing structure:
a) Strategic Reconstruction Plan (PRES) designed and financed by the private sector. There were 27 PRES in total. The central government took a side seat and transferred leadership to the private sector who offered their support and expertise. Pelluhue was one of the localities that developed a PRES.


b) Reconstruction Plan for Coastal Areas (PRBC), VIII Region, developed by the Regional Government together with local universities. 25 PRBC were designed through regional leadership and without intervention from the central government (during the first stages).


c) Urban Regeneration Plans (PRU), in which the design and implementation was financed by each regional MINVU. These targeted small and medium sized localities and developed a series of detonating projects. 112 localities had a PRU's... Read more
Haiti 10 Years After The Earthquake: Why So Little Recovery Progress In A Decade?
"The earthquake gave Haiti an opportunity to take off, to learn development," he says. "Unfortunately, nothing [has] happened. No planning. No leadership. No project."
It's hard to argue with him. It took a year after the quake just to get real debris removal started. It took seven years to reopen Haiti's major hospital. Today, Haiti is facing one of the worst food shortages in the Americas. That's not to mention the country's endless political upheaval — and protesters now demanding the ouster of President Jovenel Moïse, who is accused of involvement in a $2 billion corruption scandal involving infrastructure project funds (which he denies).
So why, after a decade, has Haiti made so little recovery progress? Many Haitians say one big reason is that the country's spirit itself has yet to recover.
"When you need to be psychologically healed first, then it's hard for you to think about development," says Marie Guerda Nicolas, a Haitian American and a psychology professor at the University of Miami.
Nicolas was in Haiti during the earthquake, and she says it's hard to exaggerate how brutally traumatic it truly was.
Deepened despair:
For one thing, modern Haiti had never dealt with earthquakes: This was the first there since the 1700s. That's a big reason so much caved in: Haiti's building codes were some of the world's most lax.
But the quake dealt another gut punch to Haiti's psyche: At that time, before the earthquake, Haiti was finally looking up after decades of dictatorship and dysfunction.
"We had more stability in terms of the political situation," Nicolas says. "Economically, there was more exporting; infrastructure being built. We were moving in the right direction."
To then have that optimism so suddenly and violently shattered only deepened Haitians' despair...
Read more
Policy Developments and Outlook on resilience to earthqueakes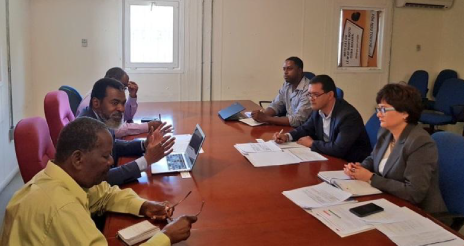 PORT-AU-PRINCE, Haiti, February 12, 2019. Haiti is at a decisive moment in its strategic commitment to disaster reduction. The country is preparing to adopt a revised national risk and disaster management plan (PNGRD), about 20 years after the first plan was adopted. In addition, a law is under discussion to strengthen the capacities and autonomy of the Directorate of Civil Protection (DPC). At the same time, Haiti seeks to engage in several initiatives at regional and global levels and intends to participate in the main international events in disaster prevention where it will have to highlight the progress made while continuing to draw attention to the vulnerabilities existing. Recognizing this critical step, the United Nations Office for Disaster Risk Reduction is increasing its support to the government and other actors involved in risk reduction and building resilience at the country level...
Read more
UNDP and UNDRR to step up action on climate and disaster risk.
The United Nations Development Programme (UNDP) and the UN Office for Disaster Risk Reduction (UNDRR) signed a joint partnership agreement this Friday, 21 February, to step up collaboration on three priority areas to accelerate the implementation of the Sendai Framework for Disaster Risk Reduction 2015-2030 and the UN Plan of Action on Disaster Risk Reduction (DRR).
The partnership creates new opportunities to integrate DRR in important planning and decision-making processes at the country level, introduced by the UN Development System reform, and provides countries and partners with more clarity on each entity's mandate work scope and complementarity.
"On average, investing in more resilient infrastructure in low- and middle-income countries brings $4 in benefit for every $1 invested," said UNDP Administrator, Achim Steiner. "This closer partnership between UNDP and UNDRR will allow us to provide even better support to countries as they build stronger resilience against disasters and ramp-up their efforts to tackle climate risks."
...
Read more


Jamaica will host the seventh session of the Regional Platform for Disaster Risk Reduction in the Americas and the Caribbean, whose theme will be "Establishing resilient economies in the Americas and the Caribbean." This session will seek to increase the level of awareness of the increasing economic and human costs caused by disasters in the Americas and the Caribbean, including the challenges faced by small Island Developing States. During the sixth session of the Regional Platform for Disaster Risk Reduction in the Americas, held from June 20 to 22, 2018 in Cartagena, Colombia, the decision was made to hold the next forum in Jamaica. This will be the first time that a session of the Regional Platform in the Caribbean takes place, one of the most vulnerable regions in the world to extreme weather events and seismic activities... Read more